About us
I am grown up in a family where my mother founded Sporrens breeding 1960. So I have shared my life all the
way with dogs. At that time my mother bred Dash Hound and Airdale Terrier.

My first litter was born 1973 and consisted of white toy poodles.

Father of the puppies was a handsome white toy Poodle from Great Britain. I had seen him earlier and fell in love.
Pity enough when I got the oppurtunity to use this fantastic male, all puppies in the litter got under shot!
Of course they where all sold as pets. This is how my breeding began!

My foundation bitch was Hagastigens Sheila. Silver Dwarf Poodle.
She put the ground for my silvers.

In the early seventies I saw on a show in Norway apricot Poodles and decided that I wanted one myself.
So I bought a bitch, Norweigian Lady Sunrise in Norway. She was a small miniature Poodle.
This was the start of my apricot breeding.

Dogs of honor through out the years are for example.

SUCH NUCH Sporrens Just for Money, white Toy male born -84
s: SUCH Sporrens White Impression d: Rapsodyinwhite.

SUCH DCH Sporrens Silver Never Say Never, silver Dwarf male born -90
s: SUCH NUCH Sporrens Just for Money d Sporrens Silver Gaiety Gig

INTCH SUCH NUCH Sporrens Orange Appetizer red toy male born -90
s: SUCH NUCH AUCH Solnes Like an Oranges d: SUCH Sporrens Orange Tricks

Multichampion Sporrens Blast Off, white Dwarf male born -98
s: AMCH SUCH DKUCH Heartwins Iīm a Little Teapot d: Sporrens Ice Watch Out

Multichampion Sporrens All over, black Toy male -02
s: Multichampion Solnes Rain Dance d: Sporrens Masquerade Spot

SUCH INTUCH Sporrens Orange Be Happy "Ricky" , red Dwarf male born -89
s: NUCH Rocky Roads Beaujolais d: Rush Donīt Go Near the water

Finally "Rickys" son "Sune", SUCH Sporrens Orange Double-Dealer apricot Dwarf male
who is one of my males right now. He is to be found under males.

Through out the years we have bred more than 50 Champions and exported Poodles over the whole world.
Both breeding dogs to breeders and pets. For example the little silver bitch who moved to South Arabia
and there she lives her life as a pet.

For us the inside of a dog is as important as the look.
Our breeding dogs are of course free from defects and has an open and social temperament that is
so typical for the Poodle. We check eyes, knees etc before we use our dogs in breeding and also
DNA-testing against the eye disease PRCD at OPTIGEN.

We live on a small farm north of Gothenburg where our dogs has a free and natural life.
The dogs are fed with homemade food combined with some dry food.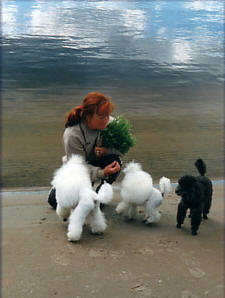 Yvonne Castell
Phone: + 46 303-528 50
E-mail